A $70.69 diagnosis deposit (hour of labor) will be charged when you drop off your laptop to determine which problem the laptop has, you will be called with estimate for fixing.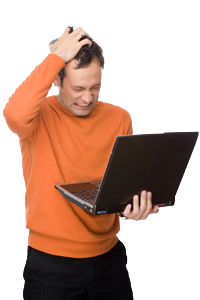 If a laptop will not take a charge from an AC adapter, most likely you need a DC Jack repair. 
$200 flat charge
If a laptop has a dim backlight, meaning the computer turns on, but nothing or practically nothing can be seen on the screen, it likely has one of three problems.
Bad Inverter:
1 hour of labor $65
Part: new inverter can range from $60-115+
Total:  $125-180+
Bad Backlight:
2 hours of in shop labor $130
Parts: new bulb + power cables $25+
**Some side effects such as uneven lighting on the screen may occur and repair is ONLY available in special scenarios**
Total:  $155+
Damaged LCD Display (Cracked screen, etc.)
1 hour of in shop labor $65
Part: new screen $150+
Total: $215+
*Parts may have to be ordered with a 5-7 day delivery time and subject to availability
Very professional and honest computer
support store! They were able to schedule
my repair for the next day.
Mike, Kenner
PC Tune-Ups excels at customer service
and responsiveness. Struggling with network reliability they were able to help.
Sue, Metairie
The techs at PC tune-Ups definitely know
what they're doing.
Steve, New Orleans
Now my office Computer is Clean
and RUNNING FASTER THAN EVER
BEFORE!
Joe, Metairie
We had problems with our router and
Jayson knew exactly what was wrong
and fixed it.
Ralph, nolabusinessdirectory.com

Increase Your Computer's Performance
Computers, just like pianos and cars, benefit from having periodic tuneups done. Regular pc maintenance will increase a computer's performance.

Proper pc maintenance can address problematic computer issues such as freezing and blue screening. Hardware problems can be dealt with as well as error messages and slow running.

A knowledgeable professional at PC Tune-Ups will scan and remove spyware, adware and viruses. We will also defrag the hard drive as well as running scandisk. Our experts will clean the registry and check the security software.

Regular PC Tune-Ups will help to increase the performance of your business or personal computer. Consistent maintenance will help to save you time and money.